Roaring nostrils. Cracking hooves on the competition floor. The tension for delivering the performance. And then … the redeeming word. You are again the winner of a big prize together with your loyal buddy and a top team of other riders. That is the life of Rixt van der Horst, paralympic dressage champion, multiple World champion and European champion. With her horse Findsley N.O.P., she is a top combination, as evidenced by the many medals in her prize cabinet. Three medals were added last month when she won twice silver and once gold at the European Championships in Rotterdam. The girl who had to fight for her life from birth is now a young woman preparing for the Tokyo Olympics in 2020. Winning gold there is her ultimate goal. Scoozy helps her to move around the terrain easily during competition days and training sessions. How did Rixt reach top sport despite challenges that seemed insurmountable?

Pake (as Rixt calls her grandfather after good Frisian use) possessed Friesian horses and taught her the love for it at a young age. Brushing, sitting on the horses and going to the farm behind the house every day. The horses made her crawl out of her shell. Yet a career in top-class sport did not seem to be reserved for Rixt since the doctors predicted that she could never walk. Determined to prove the contrary, her mother did tireless exercises with her and she learned to walk. That perseverance is not strange to Rixt, and it turned out to be a precursor to success..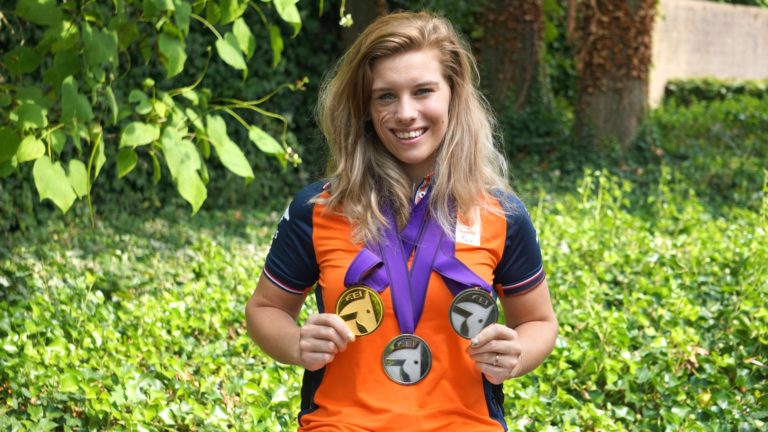 Already at an early age, Rixt was not limited by her health problems. She went to a normal school and wanted to be "normal", but she was very young and she had to fight for her place. It has made her the ultimate go-getter that she is today. However, horse riding did not happen automatically. "I wasn't even allowed to sit on a saddle at first. I sat on the horse without a saddle with someone behind it. But when I got older I just wanted to drive myself. That was a problem because my hips were in a wrong position and riding a saddle could cause it to get worse. Eventually, the doctors gave permission."
'Always believe in yourself and never give up'
THE DREAM OF EVERY GIRL COMES TRUE
Of course, a dream came true when she got her first own pony from her parents at the age of 11. Rixt started to compete and win prizes in regular sport and discovered her talent. "At one point I came across my disability, but I didn't really want to belong to the parasport. Until in 2008, I read a piece in the magazine of the union about an NK for para riders that you could sign up for. Then I made the leap. I was immediately named the most motivated rider of the competition".
FIRST SUCCESSES TASTE FOR MORE
The flame had started to burn for Rixt. This tasted like more and after a conversation with the national coach even the dream of participating in the Olympic Games started to come true. But then the process begins. "At one point I needed another horse to break through to the top. Indirectly I ended up with the owner of Uniek. I rode a score with him at a race that no one had ever achieved in this sport, while I had only done it three times. Through the Foppe Fund, I was able to buy the horse and then things went up. A year later I became a double world champion and a year later I became a double European champion. It all fell into place. First other people sometimes say it is because of the horse. But by riding international medals with several horses, I have proven to be able to ride really well." In 2016, Rixt again proved her talent when she won three medals at the Olympic Games in Rio de Janeiro.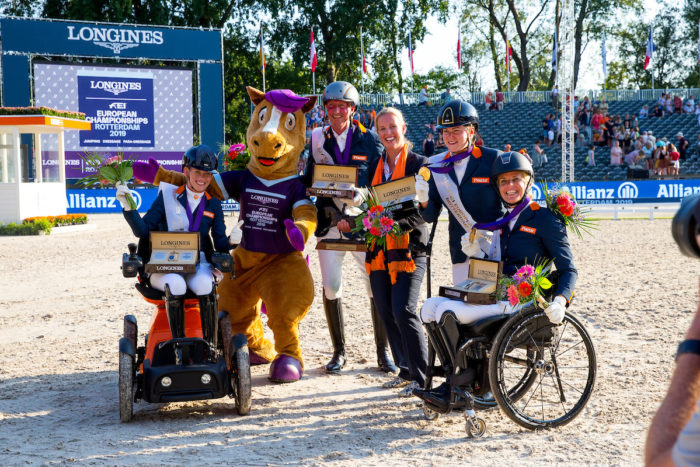 HOW SCOOZY HELPS
In order to move well and to save energy on the competition site and during training, Rixt first used a wheelchair. That is just very awkward to go through the sand with. In addition, it is especially important to see how the horses respond to it. Scoozy is particularly useful because the front is open and therefore the reins cannot get stuck anywhere. "I get very nice responses. It really is a gadget and you don't feel that stigma of a mobility scooter. People love it and many other athletes want it too. For the last European Championship, we had him specially made orange, so that really stood out. The similarity between Scoozy and horse riding is that you both have to do it with a lot of feeling."
"Working with horses gives so much freedom. Scoozy gives me that feeling too."
OVERCOME CHALLENGES​
Rixt explains the challenges you face when you practice top sport. "The sport is number one. You have to adjust your entire life accordingly. And not only you, but also the people around you. You also have to do everything yourself; I find sponsors, a good trainer and the right horse, but I also do the communication via my website and social media. I get a lot of support from my parents and friend. " 
Another challenge for Rixt was moving to Nistelrode, where her training base is located. Despite her physical limitations, she moved from Friesland to Brabant on her own. A brave decision. "You leave your whole life behind. And of course you train a lot, but otherwise, I was often on my own. It took some time getting used to this in the beginning. Of course, you sometimes face setbacks and you think "what am I doing it all for"." Yet the beautiful experiences outweigh what she has to leave for it. "The pleasure of driving always helps me to keep going. I like to take on a challenge and feel that competition tension. And I am also just infected with the horse virus. You get such a bond with each other. That such a large and strong animal wants to work for you remains very special."
AMBASSADOR FOR SPORT
"The integration of regular sport and parasport remains important. We already do that very well in the Netherlands, but there are always things that could be better. That change is often slow. People must also want to see it on television. If we continue to win medals, they will no longer be able to ignore us. That is also a task for the media."
The ultimate goal for Rixt is to win gold at the Tokyo Games in 2020. Nothing is left to chance here either. It means preparations in climate chambers, test competitions in Qatar to experience the warmth and the flight and, of course, get to know her horse Findsley, with whom she has been a combination since 2018, even better. Rixt's experience clearly shows that the Paralympic sport is in no way inferior to the regular top sport. "I want to show that everything is possible. For example, sport helped me to accept my handicap. You do not always consider how much impact you can have on others and that you are really an example for children. I find it so special that girls now look up at me and want to be photographed with me. I am therefore very honoured to be an ambassador for the Foppe Fund, with which I can show other children and young adults that you can get everything out of life and excel in a sport even with a disability."
What does Rixt mainly want to tell others? "Always keep believing in yourself and never give up. And the most important thing is that you get pleasure from what you do." For us, Rixt is the figurehead of a go-getter and therefore also our ultimate ambassador. Scoozy is the means of transport of a winner. A winner that we are very proud of!
Rixt is an active ambassador for the Foppe de Haan Fund and an official ambassador for the KNHS (Royal Dutch Equestrian Sports Federation). In addition, she works part-time for NOC * NSF as a data analyst and follows a bachelor degree in Communication. Follow her trip to Tokyo via Facebook and Instagram or read more about Rixt on her website.
Experience Scoozy yourself!

Do you want to try all the features of Scoozy yourself? Then schedule your test drive now! This can be done at your home, at a dealer, in the Scoozy Factory or in nature.