"This show is not accessible for wheelchairs." Recognizable? That you had to miss something nice, because the place you wanted to go was not suitable for wheelchairs? For many people that is unfortunately a reality, but Caroline gambled it. With the tickets already in her pocket, she decided to visit her beloved Oerol festival with Scoozy after undergoing a heavy knee treatment. She wouldn't have missed it for the world.

"Only when you are temporarily disabled yourself, you notice how many buildings are not prepared for this," says Caroline. However, she did not let this stop her during the healing process. Caroline, who has a busy personal life and demanding job, had to undergo a heavy knee treatment after years of complaints. Due to her active life and walking the dog every day, she normally walks about 10,000 steps a day. So the prospect of weeks not being mobile and depending on others was not what she envisioned.
Due to knee problems in the past, Caroline had already experienced how people can react when you are sitting in a wheelchair. "It's like people look at you differently right away, or sometimes even talk like you're just not there." Before her surgery, she therefore looked for an alternative to the traditional mobility scooter and wheelchair and found Scoozy. After a look in one of the showrooms she was sold. "It was quite a challenge, because I should be able to sit in it with my leg stretched out for six weeks, but Scoozy made the adjustments needed to use it in my situation. From my side, I also like being one of the first users to share my experiences with such a new and innovative product. She also liked the look of Scoozy. "Of course it's about function, but appearance does matter as well. I am also a bit of the fast cars (witness the name of her dog Aston, named after the Aston Martin). "Scoozy looked beautiful and tough, so that appealed to me." She can now take her beloved daily walks with her dog through the forest with her own Aston Martin. Although with slightly fewer kilometers per hour.
'When I was sitting in Scoozy the prosecco and oysters were brought to me non-stop.'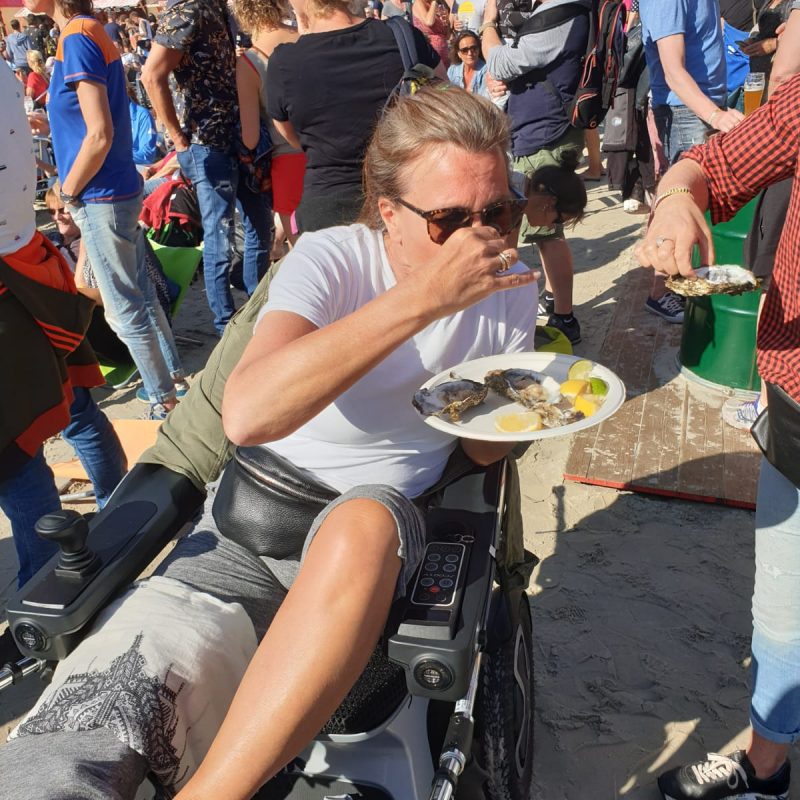 But what do you do with already booked tickets for a festival that takes place in the dunes? Just go! Caroline has been visiting Oerol for a few years now and she wouldn't let that being taken away from her do to the operation. Two weeks after the operation, she traveled by train to Terschelling, together with her husband. "That is well arranged in the Netherlands. You can request assistance in advance. On all platforms where you have to be, people from the NS are always ready to help you get on and off the train. I found everyone very helpful. Some shows at Oerol were not accessible for wheelchairs according to the program. I just drove with the audience along the large and wide dune paths." Thanks to Scoozy, Caroline has never missed a performance. "It was not so bad afterwards. And it also has advantages. When I was sitting in Scoozy the prosecco and oysters were brought to me non-stop."
"Of course it was sometimes difficult at first, but you also have to see the good side of things. I always think "it might be fun." I could now keep control and stay active. The fact that I was mobile all those weeks has also had a good mental influence. I am convinced that Scoozy has also contributed to my healing."
Experience Scoozy yourself!

Do you want to try all the features of Scoozy yourself? Then schedule your test drive now! This can be done at your home, at a dealer, in the Scoozy Factory or in nature.