On a drizzly summer day, we speak to Joop at the kitchen table of his bungalow in Zwijndrecht. He has been living here with his wife for 1.5 years, after living in their split level home was no longer possible. The drizzly weather outside is no precursor to the mood inside. Joop is a lively and entrepreneurial type. Thanks to Scoozy, he can still do many things that he did before the major event in his life. "You can lie down in bed, but at some point, you want to do something and I did. I had the courage to make something beautiful out of it." Joop proves: Scoozy is not for people who want to sit still, but for people who love life.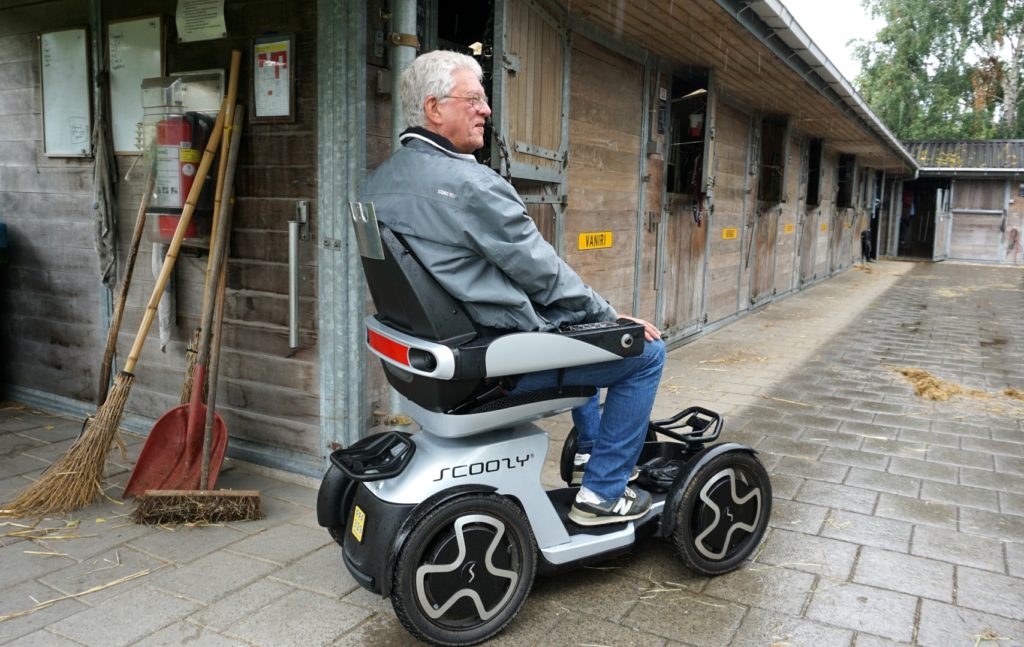 Joop has worked all his life in shipbuilding. As a technical manager, he was in charge of the drawing-room and purchasing and he travelled all over the world. After 49 years of service he quitted. There are also many other things that require attention. His four grandchildren for example. In addition, Joop has been involved with the same equestrian sport association for over 30 years, where he shares the love for horses with his family and is involved in maintaining the riding school. It seems hard to imagine that such a person can accept a life in a wheelchair. Yet a major event happened to him shortly after his retirement. Joop had a blocked artery. He ended up in the hospital for two months and in a care hotel for three months. Eventually, his left leg had to be amputated. How did Joop manage to overcome this and how does Scoozy support him?
IMPROVISE AND SEARCH FOR WHAT YOU CAN DO
Joop learned to improvise in shipbuilding. Onboard a ship you are regularly confronted with things that do not work, for which a fitter is not always available. Joop often found the solution. He now applies that resourcefulness to his personal situation. Always look at what is possible, instead of not. Already in the care hotel, he started looking for the possibilities. There he read about Scoozy, the alternative to the mobility scooter. Joop came to look in Delft and drove a bit in the prototype. Although it would be some time before Scoozy became available, Joop was enthusiastic. Especially the technology behind it and the 4-wheel drive appealed to him. "From the start, I was looking for something to go to the forest with." He saw how he could "ride" again. His daughter on the bridle path and he driving next to it.
Joop saw how he could "ride" again. His daughter on the bridle path and he next to it.
Until then, Joop had to rely on other tools. He has been walking with a walker since he got his prosthesis, but something else is needed for longer distances. A traditional mobility scooter was not a solution for him. The horn, which he himself calls a "truck horn", and the steering wheel he found not ideal. "If you drive over something, then a steering wheel quickly falls out of your hands quickly. With Scoozy, the wheels are independently suspended and you have no steering wheel in your hands. It also adjusts the speed when you drive over something, making you much more stable. "The feeling of safety is better for Joop. He goes everywhere with it. "I used a mobility scooter mainly as a means of transport. With Scoozy I go out for fun. It feels like I'm driving through the village on a comfortable chair. I take it to the do-it-yourselfer, the riding school, to the forest, or to cycle with my wife." As one of the first users, Joop also likes to share his experiences with the product developers. He has plenty of ideas that he tries out on his own Scoozy. For example, he has mounted a holder for his crutches and made support to be able to take the walker with him.
WITH SCOOZY IN THE STABLE OR TO THE FOREST
Joop still does many technical jobs for the riding school every week. It is no longer possible to replace a lamp, but that does not limit him." Once a pipe broke. Then I drove back into the stable to replace the pipe." His granddaughter also makes grateful use of the tough means of transport. If he picks her up from school, she regularly asks "Grandpa, can I drive with you"? Meanwhile, Joop is guessing that he has made about 1000 kilometres with Scoozy. For example about the forest paths behind the riding school. The gates there are not all suitable to go through. But of course, Joop has already had a conversation about that with the forester.
WATCH JOOP'S STORY
Experience Scoozy yourself!

Do you want to try all the features of Scoozy yourself? Then schedule your test drive now! This can be done at your home, at a dealer, in the Scoozy Factory or in nature.