Scoozy has an open design so that nothing can stop that feeling of freedom. Scoozy doesn't have a steering column to lean on. That is why Scoozy has a patented entry system with solid doors. This blog explains how this unique boarding system works and how you get on Scoozy.
PATENTED ENTRY SYSTEM
Open the armrest by pressing the black button. Opening and closing the armrest is easiest with your thumb on the black push button and the other fingers on the other side of the armrest. The wheels steer automatically, giving you more space to get in. Scoozy's frame is so strong that you can lean with full weight on the armrests for easy entry. When you're all set, close the door, fasten the seat belt and let the adventure begin.
instellingen sturende wielen scootmobiel
The armrests can be opened 80 degrees and locked in any desired intermediate position. When switched off, the wheels will not steer. (This might be convenient when scoozy is parked next to a wall/sidewalk). The wheels' steering can also be permanently disabled in the service settings in the menu. When both armrests are open, the wheels are straight. Both armrests must be fully closed again to be able to drive. You will see this on the display when you press "Drive-mode" or "Speed-mode" to start driving.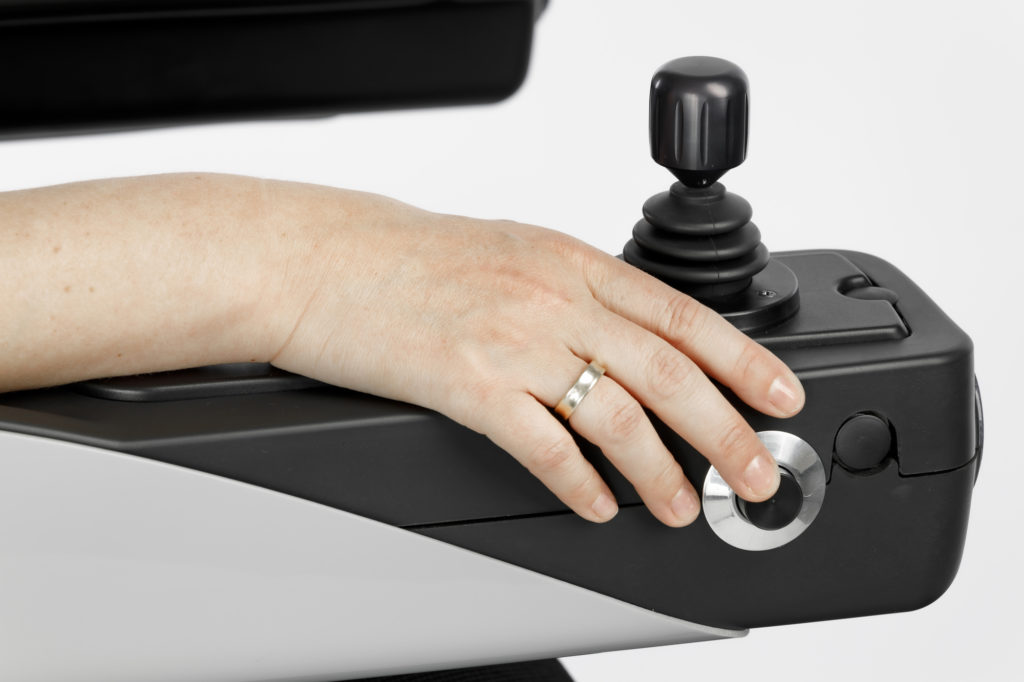 MOBILITY SCOOTER WITH SEATBELT
Scoozy comes standard with a seatbelt. The belt ensures that you remain seated, even when you brake hard. A seat belt sensor is added to make you aware that it is safer to fasten the seat belt before driving. A multi-point harness to stabilize the upper body is not possible. Read more about Scoozy's safety in these blogs: ​Is Scoozy a stable mobility scooter? and A collision with your mobility scooter: How Scoozy protects you!
Experience Scoozy yourself!

Do you want to try all the features of Scoozy yourself? Then schedule your test drive now! This can be done at your home, at a dealer, in the Scoozy Factory or in nature.