Everyone knows that ultimate holiday feeling. The feeling of complete freedom and doing what you really want. But how do you achieve this when you are confronted with limited mobility? Mobility scooter users Gerard, Anneke, Caroline, Bert, and Peter took matters into their own hands to go out on limited mobility vacations. How do they do that? Read it in this blog.
MOBILITY SCOOTER TRAILER FOR CAR
Gerard was confronted with a cerebral hemorrhage more than a year ago, which caused him to suddenly have limited mobility. Gerard already researched how he could be mobile again during rehabilitation. "Because of our house in the woods, which you reach via a dirt road, basic mobility scooters were not an option for me. I came across Scoozy as the ideal mode of transport because of the allroad capabilities and stability. In addition, Scoozy's unilateral joystick control is the solution for me because of the limitation in one of my arms after the stroke."
"By taking Scoozy along in a mobility scooter transport trailer, we can enjoy a holiday in Belgium and France."
Gerard was spotted in several places with his Scoozy. For example, he was out and about with his wife in Cadzand. "By taking Scoozy along in a mobility scooter transport trailer, we can enjoy a holiday in Belgium and France."
MOBILITY SCOOTER LIFT FOR CAR
Anneke has been using a mobility scooter for some time now. When it turned out that the municipality could no longer provide a reliable means of transport for her, she started her investigation. Because of the open design and the new technology, she contacted Scoozy. She became one of the first users of Scoozy.
In the winter, she stays in Portugal. Her Scoozy is transported in a mobility scooter transport trailer and delivered to their destination by a caravan transporting carrier.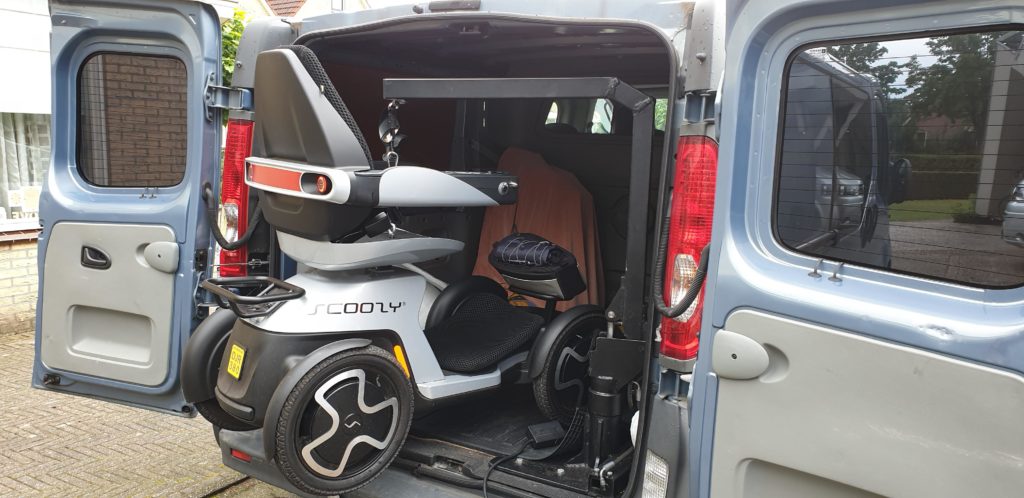 Anneke likes to discover new places with her partner and go out for dinner. "You often can't park your car close by your destination. That's why we have mobility scooter lift for car and take Scoozy with us. That's how I get anywhere." They bought a modified Renault Trafic for this purpose. 
MEDICAL SCOOTER IN THE TRAIN
What to do with your tickets for a festival that takes place in the dunes when you are recovering from a knee surgery? You go, of course! Caroline has been visiting Oerol for several years, and she wouldn't by train to Terschelling, together with her husband. "It is well organized in the Netherlands. You can request assistance in advance. People from the NS are always ready to help you in and out of the train. I found everyone very helpful.'" Thanks to Scoozy, Caroline never had to miss a performance. Read Caroline's whole story in  this blog
MOBILITY SCOOTER LIFTS FOR VANS
Peter used a mobility scooter for some time because of COPD, but he was never very confident. It didn't get him where he wanted to go. He heard about Scoozy. After the launch of the B model, he decided to take it for a test drive at a dealer nearby, and he was sold. "With Scoozy, I can drive anywhere and do bird watching. We are seasoned campers, and I also take my Scoozy to the campsite. I have a Renault Traffic wheelchair bus with a trunk lift for this.* Before, I couldn't join my wife by bike, but now I can with Scoozy."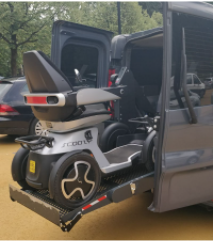 . 
MOBILITY SCOOTER IN CAMPER​
About three years ago, Bert began to explore the options he had to remain mobile and came up with Scoozy as the ideal solution with his requirements and wishes. "The 4 large Scoozy wheels are ideal. Of course, it's also just a cool thing, and it fits wonderfully!" Bert especially liked the fact that Scoozy is something completely new. The purchase was a fact. 
"The 4-wheel electric scooter Scoozy is ideal. Of course, it is also just a cool thing, and it fits great."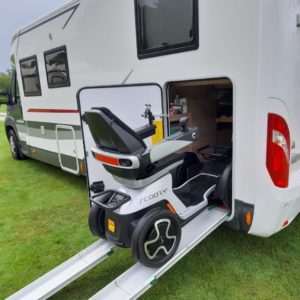 ​"When I decided to go for Scoozy, we started looking at the possibilities of taking Scoozy with us on holiday. At first we thought of a plateau at the back of our camper. However, this didn't seem ideal. Then we found a camper with a huge garage, the storage space in the back of the camper. We bought this camper last year. With some adjustments, our son has ensured that I can drive Scoozy straight into the garage with the help of 2 extendable rows." Bert also uses these gutters to drive Scoozy in the back of his mobility scooter van: an extended Volkswagen Caddy. By removing the back row of benches, Scoozy fits exactly in through the tailgate, even together with 5 people. Read Bert's whole story in this blog
Bert takes Scoozy everywhere. He takes rides with his grandchildren, tours the meadows outside, or makes trips in the camper with his wife. In this way, you can experience a holiday feeling every day, and you turn life into one big fascinating journey.
Tip: Lifting eye
Scoozy can be lifted on a lifting eye that can be turned into the appropriate opening in the middle of the seat.
A foldable mobility scooter seems practical to take with you, but you often do not get to the most beautiful places in nature because of the small wheels and the limited ground clearance. Scoozy is a non-foldable mobility scooter that offers a sturdy and stable vehicle for long distances. Scoozy is also highly suitable for nature trips on holiday. Do you want to go on an adventure with Scoozy? 
Experience Scoozy yourself!

Do you want to try all the features of Scoozy yourself? Then schedule your test drive now! This can be done at your home, at a dealer, in the Scoozy Factory or in nature.​