A mobility scooter is a valuable asset. If your mobility scooter gets stolen, this is not only very annoying, but it means a significant limitation in mobility and independence. Unfortunately, many mobility scooters get stolen. Many mobility scooters have the same key, making them easy to steal. Scoozy came up with a solution! Read in this blog how Scoozy protects against theft.
UNIQUE MOBILITY SCOOTER KEY
As a Scoozy user, you don't want thieves to run off with your vehicle. We have taken this into account when developing Scoozy. Scoozy works with a uniquely programmed NFC tag as a key. Every Scoozy is associated with a particular tag. With the regular mobility scooter, there is a good chance that you can unlock many different mobility scooters with a few keys because they all have the same locks. This is not the case with a tag. Place the tag on the armrest to switch on Scoozy.
SECURING YOUR MOBILITY SCOOTER WITH A CABLE LOCK
The open wheels make it easier to put a cable lock through the wheel. For example, you secure Scoozy to a pole and make it even more difficult for thieves to steal Scoozy. We recommend TEX-Lock locks for this. ​
​ Tex-Lock locks are practical and beautiful. The Tex-Lock is made of multi-layer textile composite and (depending on which variant) is 'normal' ART-2 certified. These high-end locks feel silky soft but are mega flexible and very light. Do not scratch the paint, do not rattle and easily offer extra options to protect Scoozy against theft carefully.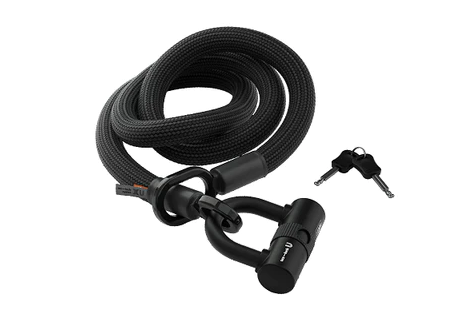 MOBILITY SCOOTER WITH GPS TRACKER
In the unlikely event that Scoozy is stolen, it is useful if it has a tracker with which your Scoozy can be found. We do not yet provide solutions in this area ourselves, but there are many solutions for sale that respond to this. These solutions can be divided into 2 categories: the GPS tracker and the bluetooth tracker. Both solutions have advantages and disadvantages.

Bluetooth tracker
A Bluetooth tracker such as an Apple AirTag is a small device that works with BlueTooth and an associated app that indicates its location. The AirTag does not have a GPS chip, but a BlueTooth module and a battery that must be replaced when it is empty. This is about once a year. The AirTag does not have its own connection to a network, but determines the location by means of other telephones in the immediate vicinity. So they must be nearby. Read in this blog about the advantages and disadvantages of the Airtag.

GPS-tracker
A GPS tracker is a small device that can be installed invisibly in almost any vehicle and can be connected to the vehicle's power supply. A GPS tracker consists of three parts to determine a location: the tracker determines the location with its GPS chip and sends the location to the server by means of mobile internet. Then the app shows the location. A GPS tracker often has subscription costs for the internet connection. On the other hand, you also have a connection everywhere as long as the tracker has power. Read in this blog about the advantages and disadvantages of the GPS tracker.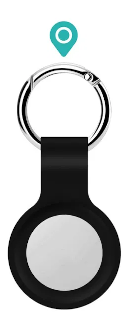 Experience Scoozy yourself!

Do you want to try all the features of Scoozy yourself? Then schedule your test drive now! This can be done at your home, at a dealer, in the Scoozy Factory or in nature.