Are you considering buying a mobility scooter or powered wheelchair? Then you soon find out that the price of mobility scooters vary enormously. In general, a new mobility scooter is more expensive than a used mobility scooter. In addition, you have an enormous bandwidth between cheap, often foldable mobility scooters and modern, high-quality mobility scooters. Scoozy is at the top of the market with a suggested retail price of € 9,995. This price may still vary per country due to locally required adjustments. In Germany, for example, a secondary brake is mandatory, which means that the price is higher there. The 7 points below show why the price of Scoozy is different from the average mobility scooter and what you get for it.
1. MOBILITY SCOOTER WITH LITHIUM BATTERY
Scoozy has a lithium battery with a range of 50 kilometres as standard. You can increase this to 100 kilometres with a second battery. Most standard mobility scooters have a lead gel battery that is cheaper but lasts less. In addition, a lead gel battery requires more maintenance and is more sensitive to incorrect use. A lithium battery retains its capacity longer and lasts typically four times as long. Over the entire service life, this is cheaper per kilometre driven. Read more about the advantages of a li-ion battery in this blog.
2. MOBILITY SCOOTER WITH JOYSTICK
Scoozy is controlled with a joystick, just like a electric power wheelchair. The problem with the conventional steering wheel is that you accelerate with a lever. It can be confusing if you are used to braking with such a lever as a bike. Because in an emergency, you intuitively squeeze the lever to brake, but actually, you accelerate, with all the consequences. Scoozy has a joystick because it is more intuitive. Forward is forward, and backward is backward. In addition, you have an even shorter braking distance if you pull the joystick back. With joystick control, you have more electronic components that add cost. On the other hand, this offers more possibilities to increase safety, and as a driver, you have more control with an active brake when you pull the joystick back. About the advantages of the joystick in this blog.
3. IN-HOUSE ELECTRONICS AND SOFTWARE
Almost all mobility scooters use the same electronics. Scoozy has developed its own electronics platform. The challenge is to make the controls feel natural while still offering maximum safety with joystick control. We did not want to make any concessions on this. With our electronics, we have everything entirely in our own hands. For example, the control of Scoozy uses 6 different parameters. We found the optimal combination of control, safety, and manoeuvrability with a software filter that gives the user an even better experience. You experience this immediately when you drive it. This Scoozy platform also offers more possibilities for the future.
4. DUTCH DESIGN, DUTHC MADE
Scoozy is designed in the Netherlands. Most parts come from Europe instead of Asia, where most of the cheaper products originate. We choose high-quality suppliers close to home who not only deliver quality but are also involved in making the product even better. Read more about it in this blog. In this video we give you a look behind the scenes and you see how the plastic body parts are made by means of vacuum forming or thermoforming.
5. SAFE MOBILITY SCOOTER
Scoozy offers several safety solutions as standard that are not available with other mobility scooters or get offered optionally. Scoozy, for example, has bright LED lamps that are placed higher in the backrest and armrests. This makes you better visable. A reflection bar is integrated into the seat. Scoozy has a seat belt as standard. The armrests are extra strong so that you can fully lean on them when boarding. In addition, they offer more protection in the event of an impact from the side. There is a speed-dependent steering limitation  that minimizes the chance that you fall over in a bend. Scoozy is equipped with a uniquely programmed key-tag key for protection against theft.
6. MORDERN MOBILITY SCOOTER
The design distinguishes Scoozy from any other mobility scooter. Where other mobility scooters go for a standard seat, standard wheels and standard solutions, we wanted to make a statement with Scoozy: the appearance of a means of transport with the functionalities of an aid. This is reflected in the eye-catching large rims. The seat integrates with the base by adding designed covers. The armrests are luxuriously finished. At Scoozy, you see a level of detailing and finish above the standard.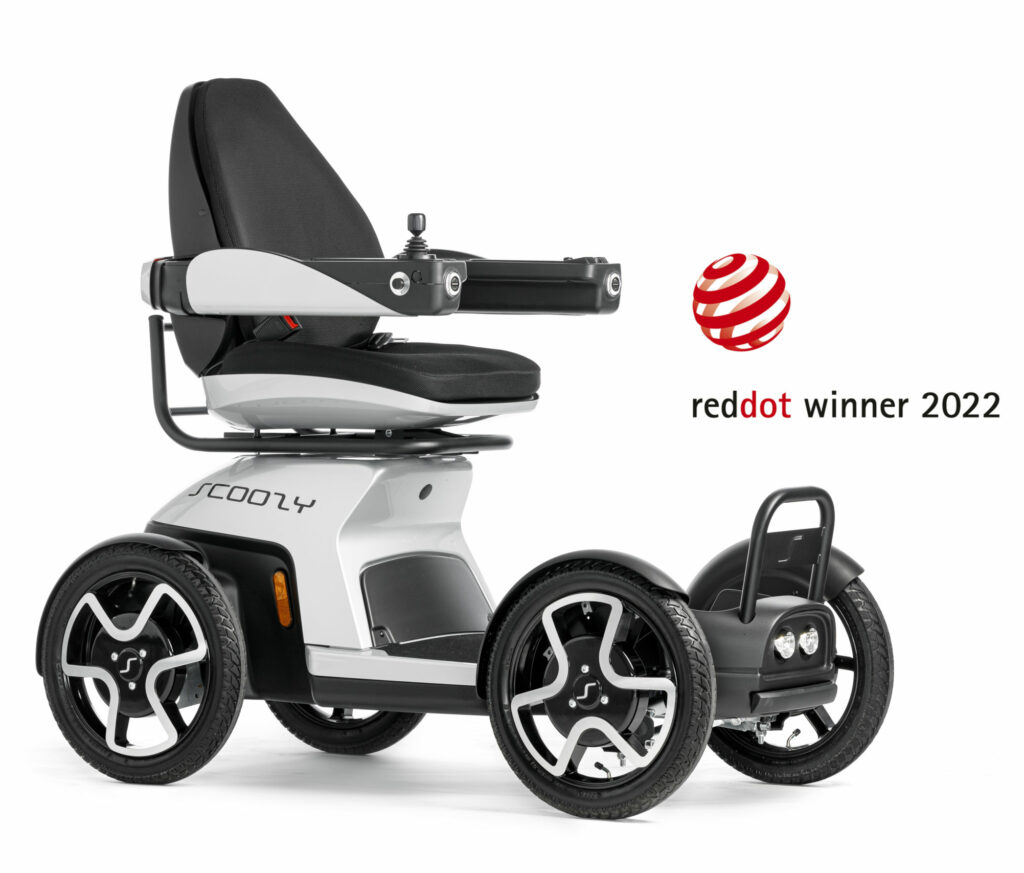 7. ELECTRIC WHEELCHAIR SCOOTER
Scoozy is a hybrid between the electric wheelchair and the mobility scooter with the joystick control. An electric-powered wheelchair is often priced higher and can even exceed 20,000 euros. Scoozy is under there. This is mainly because an electric wheelchair is often built uniquely for a specific customer. Everything is adjustable and adaptable. Scoozy has opted for a selected number of options to set. In this way to enable serial production. It has been designed with great attention to assembly and service to make it as easy as possible.
TIP: WHAT IS STANDARD OR OPTIONAL AND WHICH BEST BUY MOBILITY SCOOTERS?
Always pay attention to which features are standard or optional when you compare mobility scooter prices. Take the Mini Crosser, which is also a high segment mobility scooter. The starting price of a Mini Crosser mobility scooter is €1000 lower. Still, when you add all the standard options with Scoozy, such as a lithium-ion battery, joystick control, steering angle limitation and a seat belt, you end up with a higher price.
​The points above show how the cost is structured differently than the price of mobility scooters. With this, we hope to help you with the best information to make the proper considerations when making your purchase decision. For a complete overview of all the options and accessories with prices, visit our 
webshop.
Experience Scoozy yourself!

Do you want to try all the features of Scoozy yourself? Then schedule your test drive now! This can be done at your home, at a dealer, in the Scoozy Factory or in nature.