The most common cause for accidents involving mobility scooters is tipping over (69%). Most mobility scooters with smaller wheels have a more considerable risk of tipping over after contact with an obstacle or bump. This blog explains how we ensure that the mobility scooter Scoozy is more stable than the traditional mobility scooter.
CLASS C MOBILITY SCOOTER
Scoozy has semi-independent suspension and large 16-inch wheels, making Scoozy much more stable on uneven road surfaces. Scoozy has been independently tested for stability in three countries and approved according to the European standard for a class C mobility scooter. Class C represents outdoor mobility scooters. Watch this film of the tests performed in France by Cerah.
MOBILITY SCOOTER WITH STEERING ANGLE LIMITATION​
Accidents with mobility scooters can also occur when the user corners too fast (7%). While some advanced mobility scooters may reduce speed when cornering, no mobility scooter can adjust steering angle and speed. Scoozy, on the other hand, knows precisely how sharp you can corner. The steering angle limitation is related to the speed and the turning circle. This means that the velocity automatically reduces when turning at a higher speed, and the turning circle is gradually allowed to decrease. This prevents Scoozy from falling over when you make a sharp turn at too high a speed.
INCLINATION ANGLE SENSOR IN A MOBILITY SCOOTER
When you drive on a slope, the stability decreases. Scoozy warns you when you are going on too steep a hill. When you pass 10 degrees (equivalent to ~18%), you will see an icon on the screen. The speed will be automatically limited to 7 km/h because you can only drive in "Drive mode". This way, you ride stably, even when driving on a slope.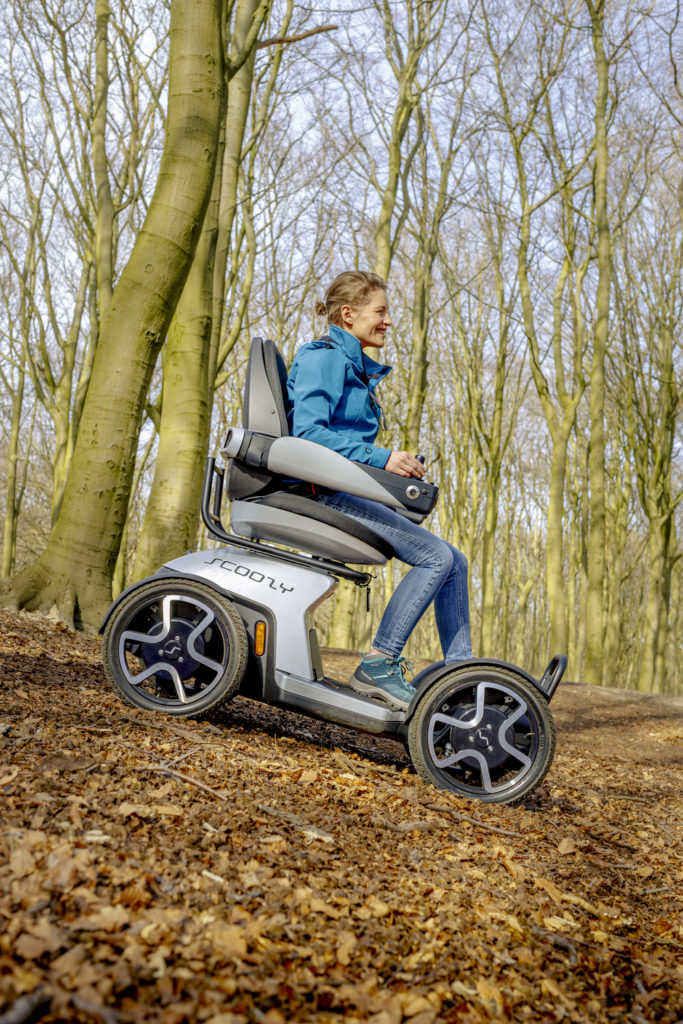 Experience Scoozy yourself!

Do you want to try all the features of Scoozy yourself? Then schedule your test drive now! This can be done at your home, at a dealer, in the Scoozy Factory or in nature.