It is something that many users have in common. They are all enthusiastic about Scoozy's design and actively contribute ideas about further improvements. Being so involved in a new product is a lot of fun not only for the user, but also for the developers of Scoozy. Bert is one of those people who likes to think along. With his background in inland shipping, he has a technical background as a basis that comes in handy.
About three years ago, he started to delve into the options he had to stay mobile. Bert did have a few "requirements" for his new means of transport. "I didn't need a basket in front or a reflected vest on the back of my seat, that wasn't for me. I also have a problem with my shoulder girdle and upper arms. Therefore it is important that I can rest my arms properly. If I have to hold a steering wheel, I actually get tired quickly." He came into contact with Scoozy online. He subscribed to the newsletter and came to test drive a few times in Delft. "Scoozy's joystick was a godsend. Of course it is also just a cool thing and it is very comfortable! The large wheels are also ideal. They look a bit like a Segway. They also ensure stable handling." Bert particularly liked the fact that Scoozy is something completely new. The purchase was a fact. He also likes to actively contribute ideas about further improvements with his critical eye. For example, a system to lift it was missing. "I like to be outside and I really enjoy cycling. That hadn't happened in a while. I just had no idea of the possibilities to take Scoozy in the car to get out again. At first Scoozy was not prepared for that. I heard nothing more about it, but what turned out?  
When my Scoozy was delivered in November, there was a lifting eye in the seat. Now I can transport Scoozy by car and I go out. The enthusiasm that I noticed from the beginning with the boys and girls who work at Scoozy, that also makes you enthusiastic. The way I am treated is great fun. I really feel like a customer and not someone who has a disability." The fact that bystanders especially notice the cool appearance of Scoozy, and not the fact that someone is in a mobility scooter, has recently become apparent.
"A 11-year-old boy came by riding on his electric scooter next to me. When he saw that joystick, he spontaneously shouted: "What a cool thing!"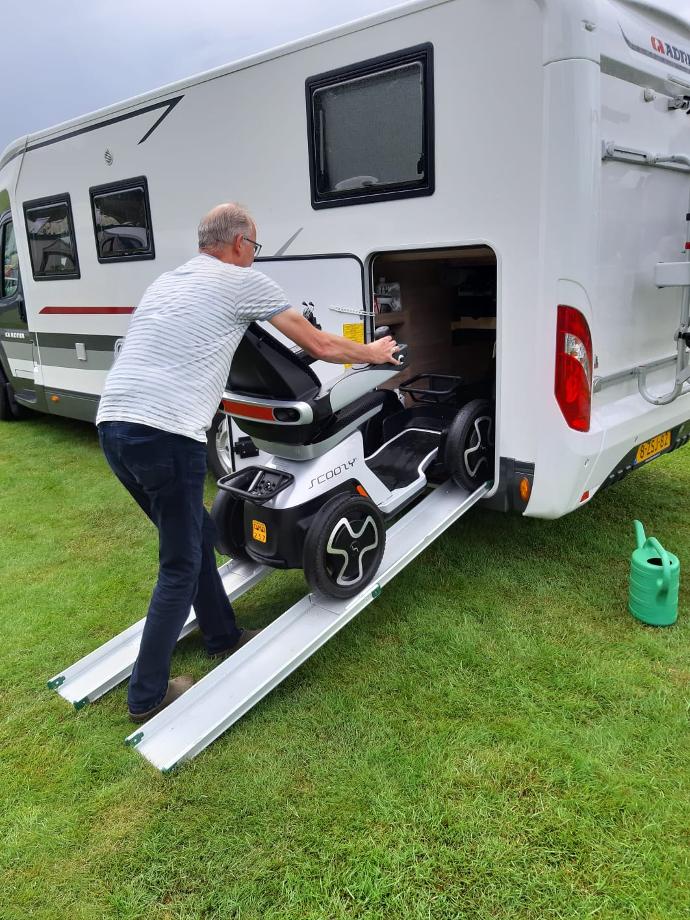 Bert takes Scoozy everywhere. He makes trips with his grandchildren, travels around the meadows, or makes trips with the camper together with his wife. Meanwhile, Bert continues to look for extras to adjust his Scoozy to his wishes. "Once I drove Scoozy road debris, such as leaves and branches, splashed up in wet weather. I made mud flaps on it myself. That is the case when you buy an innovation. Sometimes there are also some 'teething troubles' or malfunctions, but when I call they always stand directly on the doorstep to solve it." 
Bert was helped on one of his adventures by the Dutch road side assistente ANWB!
Bert drives Scoozy of the second series. This contains a 100km range and has a larger battery pack. Bert keeps track of his mileage and type of rides so much that he collects useful information to improve Scoozy even further. We are grateful with customers such as Bert. Together we provide a means of transport that meets today's needs. 
Experience Scoozy yourself!

Do you want to try all the features of Scoozy yourself? Then schedule your test drive now! This can be done at your home, at a dealer, in the Scoozy Factory or in nature.